Nick Young, J. R. Smith, DJ Tiesto attended the Hood By Air Spring / Summer 2015 presentation at Spring Studios.
HBA's Spring 2015 show was nothing short of expectation. The show was over the top in the best way. Aside from the dramatic cuts of the leather and denim pieces, the accessories were a topic of their own; models walked with canines and oversized clear collars that upped the dramatics of the clothing. The overall vibe of the runway was  a hybrid between an action movie, broadway and clubbing. The elevated streetwear brand pulled off many sleek and sophisticated looks with unique black fabrics that made you question as to what kind of occasion you would wear it to. The show covered a wide range of cuts from oversized shirts to badass biker jackets.
Other notables that we spotted included: K8 Hardy, Haley Wollens, James Goldstein, Luka Sabbat, Michael Hope, Lynn Yaeger, Fern Mallis, Ka-Mena Georges, Nick Wooster, Steven Kolb, Michael Nash, Waris Ahluwalia, Calore and Korean superstar CL of girl group 2ne1.
MAC Cosmetics invited us backstage to see the make up look come to life. Fatima Thomas designed the look.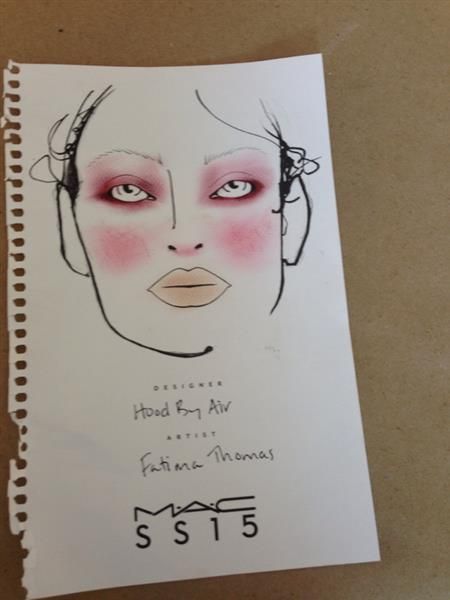 We also spoke with Amy Farid, head Hair Stylist for AVEDA:
So this season at Hood By Air, we are doing classic NYFW hair, center part, straight for the ladies. For the guys, they're coming in with kind of grungy hair, we're intensifying that if they have long hair or that man-bob. If they have shorter hair, they're getting a center part also and just sleek and close to the head. And using a lot of Aveda products, the pomade and hair spray. Just super easy and simple. We just wanted the hair to be very classic and New York.
Denise Pichardo for LaQa & Co told us about the nail look:
The look is a new take on the French manicure. We have a glitter base and a white tip, just rounding out the nail. So we have a silver base with silver pixies on top, we have a copper base and navy and white. We're doing it on the boys as well depending on the looks, each model gets a different look depending on what color they're wearing for the show.
-Tristen Yang