Nicki Minaj has championed her career on being the "voice" for women who are powerless but over the year her decisions both professionally and personally have shown otherwise.
In 2010 when Nicki burst on the mainstream stage, she rode the wave as the sexually liberated woman who was bossing her way to the top by unapologetically following the blueprint of her male counterparts to forge a lane for women in the new school game of Hip-Hop. Facing harsh criticism of her own for the lack of homage to Lil' Kim for the blatant style jack, Nicki was Hip-Hop's underdog who had no problem battling her way to the top. In a 2009 interview with Vlad TV, Minaj said that she felt women weren't successful in Hip-Hop due to being catty and forgetting the business side of the industry.
"Many women come in trying to diss other women or trying to just do music forgetting that this is a business. Let me explain, my goal is to take the game to where the guys took it as a businesswoman," Minaj proclaimed.
While Nicki has made good on that promise to self, she didn't achieve it without knocking down a lot of women on her way up.
From her beef early on with Lil Kim, Mariah Carey, and Taylor Swift to her most recent squabbles with Remy Ma and Cardi B, Nicki Minaj has been accused by women in the industry across multiple genres of attempting to block their shine due to her own insecurities about her career.
During her very public feud, Remy Ma broke her silence blasting the Young Money emcee for using her star power to ensure that she couldn't get exposure. During an interview on the Wendy Williams Show, Remy was one of the first artists to speak out against Minaj with claims that she used her fame to stop her from obtaining success.
"People keep saying that they are waiting for a response but ["Shether"] was the response because she started it and not just with me, she's done this with a lot of females from Lil' Kim, to Mariah (Carey), to Taylor (Swift) and no one says anything," Remy said. "It wasn't necessarily the little subliminal stuff on record because I don't care about records and I spoke to her before and told her, 'you're supposed to say you're the best.' It was the behind the scene stuff that you people would never know about, as far as trying to keep me off red carpets and trying to make sure awards don't go to me or she's not going to be in attendance, trying to get people to make bad reports about my album sales or anything I'm doing to make me look less and her look better."
This has been a common thread amongst all of the women in the industry who have been on the receiving end of Nicki's wrath for simply being successful. Even LHHATL star and R&B songstress K. Michelle called out Nicki for trying to sabotage her career for what she alleges is "no reason."  Back in 2017, K. Michelle took to Twitter to call out Minaj for a 2014 incident involving her sophomore album, Anybody Wanna Buy A Heart and noted that Meek Mill gave her the title track from the project but it was suddenly snatched away because his girlfriend at the time, Nicki Minaj, thought they were having sex.
"I was told that the song from my album was being taken from me, because the rapper that gave it to me girlfriend thought I was f*** him," K on Twitter. "God did more than handle the situation, I've sat back and healed up. Watched karma. I'm not perfect but I'm not evil or insecure."
Fast forward to the latter part of 2017 when Nicki started her re-emergence back in music by throwing shots at Cardi B who had taken over the industry after the release of her infectious hit, "Bodak Yellow." Despite their collaboration, it wasn't until fans started calling out Minaj for her lack of support for the fellow New York-bred femcee that Minaj went from foe to friend…sort of.
In August 2017, Cardi performed in Greensboro, N.C. During the show, she uploaded a video to her Instagram story of herself playing Yo Gotti and Nicki Minaj's song "Rake It Up." Nicki grabbed the video and posted it to her own IG and then in September she took to Twitter to initiate congratulations to Cardi for crushing the Billboard record for most weeks at number 1.
Congratulations to a fellow NEW YAWKA on a RECORD BREAKING achievement. Bardi, this is the only thing that matters!!! Enjoy it??? @iamcardib

— QUEEN (@NICKIMINAJ) September 25, 2017
But the applause was short-lived, because soon thereafter Nicki began preparing for the release of her album, Queen, and began a victim filled tirade against Cardi about what she felt was ill-treatment during the promotion of the Migos hit record Motorsport. During an interview on Beats1 Radio with Zane Lowe, Minaj states that Cardi "hurt her feelings" by not being "appreciative" that she was on the record with her.
"I remember when I first came in the game,  if a female artist of that stature hopped on a record with me, I would be appreciative. I would be singing their praises and saying thank you. The thing that hurt me is the interview I seen of Cardi out promoting "Motorsport", she looks agitated and angry and all she keeps saying is, 'I didn't hear that verse, she changed her verse,' and I was like 'what'?"
While interviewing with Rob Markman for Genius during the week of the album release,Nicki's humility had flown out the window and instead was an angrier and conceited Minaj who with each interview incited her Barbz to take on anyone who had an opinion about her.
"So in no way shape or form do I not think it's a good thing to open doors, because doors were opened for me," Nicki shared. "Go on YouTube and see how many times I said b*tches' names!" before adding, "But y'all training new bitches to come in and disrespect me!"
But if you look at Minaj's track record, Cardi B is the only rapper to do a song with Nicki and that was actually a Migos song. Despite her positioning, Nicki has never put a woman on her platform, to help boost her career.
Earlier this year, Minaj even lashed out at female Toronto based-writer Wanna after she tweeted that the Starships singer was in need of a new direction with her upcoming album Queen, and should be rapping about "mature content" instead of "silly shit" given that she's "touching 40." Sound advice, but Minaj didn't think so and decided to attack the writer via inbox calling her both "ugly" and a "hoe".
"When ya ugly a– was 24 u were pushing 30? I'm 34. I'm touching 40? Lol (laughing out loud). And what does that have to do with my music? Eat a d— u hating a– hoe. Got the nerve to have a trini (Trindad and Tobago) flag on ur page. You must not have heard the Pinkprint. Or pills n potions, bed of lies, save me, my recent feature with Alicia keys, Tasha cobbs. Just say u jealous I'm rich, famous intelligent, pretty and go! But wait! Leave my ballls! Tired of u sucking them. I dropped my album almost 4 years ago. My bad I'm 25. So at 31. How about you GET LIKE ME? Why don't you ask me to help you get RICH?! Been on top & I ain't going NOWHERE."
We also can't overlook the support that Minaj showed her brother during his child rape charge when he was convicted of having sex with her then 11-year old step-niece. Minaj who before the arrest of her sibling tweeted that rapists "should be killed", doubled down during the case by according to her brother's attorney, "backing her brother 100 percent" and calling the then allegations against her brother, "lies".
While Nicki has never publicly commented on her brother's case, it didn't come as much of a surprise that she stood behind him. According to published reports, Minaj reportedly posted Miraj's $100,000 bail and used two of her homes to back the lofty amount. Shortly after news broke, she also posted a photo of the two together with a caption showing her support.
"I would cross the ocean for u. I would go & bring u the moon. Promise u. For u I will. I love my brother so much man," she wrote.
Minaj's lack of concern for women also came to a head when she collaborated with another convicted sex offender Tekashi 69 for the lackluster single, "FeFe". When fans questioned her support of the rapper and collaboration, instead of owning up to the poor choice, Minaj dragged yet another woman into the ring by calling out Lady Gaga for her work with a suspected womanizer and abuser R. Kelly in a since-deleted tweet.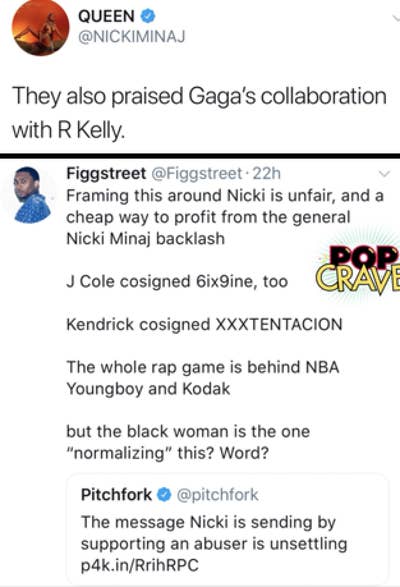 As if that wasn't enough, Nicki left even her Barbz scratching their heads when she chose to publicly endorse New York Republican Governor Andrew Cuomo over Democrat and first woman candidate Cynthia Nixon.
‼️‼️‼️New Yorkers & all NYCHA residents its time to get JUSTICE, VOTE Thur. Sept. 13 for Gov. Cuomo, Lt. Gov. Hochul & Tish James. They know how to work for the people to make NY even GREATER. Spread the word. See you at the Polls‼️‼️‼️

— QUEEN (@NICKIMINAJ) September 12, 2018
Despite the shock, this isn't the first time she chose a candidate that didn't believe in equal rights for women, in 2012 Minaj caught heat for endorsing then Presidential Candidate Mitt Romney.
Based on her actions both personally and professionally, it's no secret that Minaj has no respect for her female counterparts but instead looks at us as a way to garner album sales by attempting to associate without actually relating to the real plight that women face. Minaj has been so driven to handle business like "men do" that she is actually walking in their footsteps and all over women. Despite the amount of "doors" she feels she's opening for women, the truth is Minaj is really responsible for the stagnation. While women are not owed anything by Nicki, we don't deserve to be used by her either.